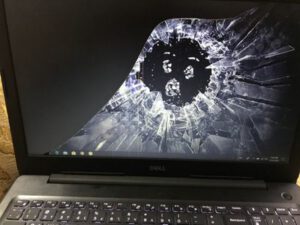 Screen Replacement
Sometimes, the screen on your desktop or laptop will break due to some kind of damage. Though the hardware and software often still works just fine, the computer will not be usable until the screen is repaired. When you come to InVision Computers, we can order a new screen and install it for you at a competitive price.
There are many reasons why a screen would break, including:
– Dropping your laptop
– Letting your kids play with your computer
– Damaging your computer during travel
– Exposing the screen to high temperatures
No matter what has caused the damage to your screen, we can make sure that you get a brand new screen that works just as well, if not better, than the last.
Is It Cost-Effective to Replace a Laptop Screen?
Cost Savings: Replacing the screen is often a lot less expensive than buying a brand-new laptop. This is especially true if the laptop is still in good working condition apart from the damaged screen.
No Data Loss: When you replace the screen, you do not have to worry about losing any of your important data or files as you would if you bought a new laptop.
Environmentally Friendly: By repairing and extending the life of your laptop, you are helping to reduce electronic waste and lower your carbon footprint.
Keeps the Old Laptop Running: A broken screen can render a laptop useless, but by replacing the screen you can keep using the laptop without having to replace the whole device.
Maintains Familiarity: If you are used to using a certain laptop and you have all your files and software set up on it, replacing the screen will allow you to continue using the same laptop without having to adjust to a new device.
Professional Repairs: Replacing a laptop screen is a technical task that requires specialized tools and expertise. By taking your laptop to a professional, you can be assured that the job will be done right and your laptop will be back to working condition in no time.
Warranty: Replacing the screen may come with a warranty, which gives you peace of mind in the event that something goes wrong with the repair.
If your laptop screen is shattered and needs to be replaced, you might think that is would be a good time for you to upgrade to a newer version. However, this greatly depends on the value of your laptop and how much the screen costs. Sometimes, the screen can be as inexpensive as $50, which, even when you factor in labor costs, would likely be cost effective for you.
However, if you want to just get a new laptop and avoid the repair fees all together, we can help you with that as well.
Leave Screen Replacement to the Professionals
Though you might notice many YouTube videos and do-it-yourself guides for how to replace your own laptop screen, you run the risk of damaging other, more expensive parts of the computer, especially if you have never replaced a screen before.
Our computer professionals are trained in computer repair and laptop screen replacement so you can always be confident that your computer will be in a better condition than when you gave it to us.
Come to one of our locations in either Clearfield or Ogden today or call us now to have your laptop screen replaced!