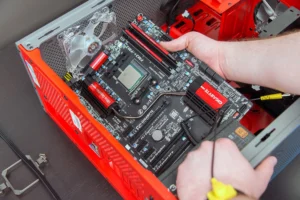 Hardware Replacement
If your computer's hardware has suffered damage or is showing signs of wear and tear due to age, it might be time to consider getting it replaced. At InVision Computers, we understand the importance of having a properly functioning computer, which is why we offer expert hardware replacement services for both desktops and laptops. Our skilled technicians will assess the damage, recommend the appropriate replacement parts, and ensure that your computer is fully functional and optimized for performance. Don't let hardware issues slow you down – let InVision Computers help get your computer up and running like new again. Contact us today to learn more about our hardware replacement services.
Should You Have Your Hardware Replaced or Repaired?
Oftentimes, repairing computer hardware is much more labor intensive than simply replacing it. The labor costs can make repairs much less cost effective than simple replacement. When you replace hardware, it is guaranteed to work better and faster than before, whereas repairs can be a little more complex and difficult depending on which part of your computer is damaged.
For instance, the following parts are generally better to have replaced rather than repaired:
If one or more of the previously named parts of your computer needs to be replaced, we can do that at InVision Computers with no problem. And, if something else on your computer is damaged, it might be more cost-effective to repair the issue, though you might want to get a quote on it first.
Don't Just Settle for the Computer Hardware You Have
If your desktop or laptop is not functioning properly or is barely functioning at all because of its damaged or worn-out hardware, you don't have to just live with it. We can help you make your computer easier and faster to use so your daily tasks take you much less time.
If you are ready to have your hardware replaced, come to InVision Computers in either Clearfield or Ogden. You can also call either one of our stores and talk with our knowledgeable computer experts now!