InVision Computers in Clearfield
InVision Computers was originally founded in 1996 we opened our Clearfield Location in the fall of 2002 with a vision to provide high-quality computer services and sales for Northern Utah. With our commitment to excellent service and expertise in the field, we grew quickly and later opened a store in Ogden. Our team of experienced technicians is dedicated to providing the best possible service for all your computer needs, from repairs and upgrades to custom builds and sales. By choosing InVision Computers, you are not only getting exceptional service, but you are also supporting a locally owned and operated business. We take pride in serving our community and look forward to helping you with all your computer needs. Visit us today and experience the difference of working with a trusted local business.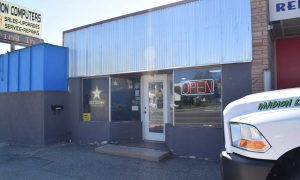 Computer Service and Repair in Clearfield Utah
At any of our stores, we offer a full range of computer services and sales so we can help you out no matter what you are looking for. Our Clearfield services include:
– Repairing or replacing damaged computer hardware
– Customizing new computers
– Installing new software or hardware
– Selling & Building custom computers
– Upgrading your computer's hardware or software
– Repairing computer screens
– Helping small businesses with their computer network
– Performing data recovery services
– Designing websites for your personal or business use
– Offering help with network and printer setup
– Virus & Spyware removal
With all of the great services that we offer, why would you ever need to go to a bigger, national computer store chain?
When you come to InVision Computers, all of our computer specialists are friendly and knowledgeable. All of them are capable of helping you get a new computer or, if you need computer repairs, they can solve your computer problems.
Data Recovery
One of our most popular services right now is data recovery. Our company is certified to provide you with the best data recovery techniques available. If your computer has crashed, become victim to damaging viruses, or corrupted some of your important files, we can help you get your data back.
Even if data recovery seems like a hopeless venture, give InVision Computers a try. You will be surprised by how much data we can recover from a damaged computer.
For all of your computer questions and requests, visit InVision Computers' Clearfield store now!
At InVision Computers we want you to be 110% satisfied with our products and services. Please give us a call with your sales questions, compliments, or concerns. Your input is crucial for our constant and never-ending improvement.
Clearfield Shop
253 N Main Street
Clearfield, Utah 84015

Telephone:801-825-3603
clearfield@invisioncomputers.com

| Days | Hours |
| --- | --- |
| Monday to Friday | 10 am – 6 pm |
| Saturday | By Appointment |
| Sunday | Closed |