InVision Computers in Clearfield
In fall of 2002, InVision Computers open the computer service and sales shop in Clearfield. We grew much more quickly than we anticipated and later also set up a store in Ogden, and now Roy as well. No matter what kind of computer services you are looking for, our computer technicians can provide them for you. By coming into our store, you are also supporting a locally owned and operated business.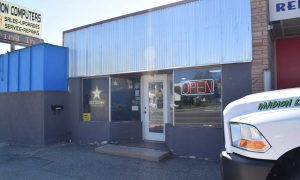 Computer Services in Clearfield
At any of our stores, we offer a full range of computer services and sales so we can help you out no matter what you are looking for. Our Clearfield services include:
– Repairing or replacing damaged computer hardware
– Customizing new computers
– Installing new software or hardware
– Selling & Building custom computers
– Upgrading your computer's hardware or software
– Repairing computer screens
– Helping small businesses with their computer network
– Performing data recovery services
– Designing websites for your personal or business use
– Offering help for network and printer set up
– Virus & Spyware removal
With all of the great services that we offer, why would you ever need to go to a bigger, national computer store chain?
When you come to InVision Computers, all of our computer specialists are friendly and knowledgeable. All of them are capable of helping you get a new computer or, if you need computer repairs, they can solve your computer problems.
Data Recovery
One of our most popular services right now is data recovery. Our company is certified to provide you with the best data recovery techniques available. If your computer has crashed, become victim to damaging viruses, or corrupted some of your important files, we can help you get your data back.
Even if data recovery seems like a hopeless venture, give InVision Computers a try. You will be surprised by how much data we can recover off a damaged computer.
For all of your computer questions and requests, visit InVision Computers' Clearfield store now!