InVision Computers in Ogden
InVision Computers was originally founded in 1996 we opened our first retail store in Ogden in 1999 with a vision to provide high-quality computer services and sales for Northern Utah. With our commitment to excellent service and expertise in the field, we grew quickly and later opened another store in Clearfield. Our team of experienced technicians is dedicated to providing the best possible service for all your computer needs, from repairs and upgrades to custom builds and sales. By choosing InVision Computers, you are not only getting exceptional service, but you are also supporting a locally owned and operated business. We take pride in serving our community and look forward to helping you with all your computer needs. Visit us today and experience the difference of working with a trusted local business.
We now have two times as many computer specialists and two times as many resources to help you with any computer problem or request you might have.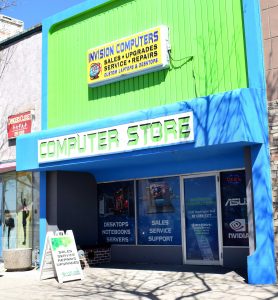 Ogden Services
Just like we have at our Clearfield store, we can provide a wide range of computer services and computer sales. Our services in Ogden include:
– Repairing or replacing damaged computer hardware
– Customizing new computers
– Installing new software or hardware
– Selling & Building custom computers
– Upgrading your computer's hardware or software
– Repairing computer screens
– Helping small businesses with their computer network
– Performing data recovery services
– Designing websites for your personal or business use
– Offering help for network and printer set up
– Virus & Spyware removal
Whether you are looking for a newer, faster computer that is customized for your personal taste or you need your computer repair, we promise to offer speedy and quality services while we make the computer do what you want it to.
Data Recovery
Currently, our more popular computer repair service in Ogden is data recovery. We help our clients get important information off their desktops or laptops that they wouldn't have access to otherwise. By offering this service, we have helped many of our residential customers and several small businesses get back on their feet after a computer catastrophe.
Sometimes, you forget to back up your data or you don't worry about it because you trust your computer to function right all the time. By doing that, however, you run the risk of losing important files. If that has happened to you, don't worry. Almost all if not all of the data can be restored to you in most cases.
Ogden Shop
2220 Washington Blvd
Ogden, Utah 84401

Telephone:801-689-1377
ogden@invisioncomputers.com

| Days | Hours |
| --- | --- |
| Monday, & Tuesday, | 10 am – 6 pm |
| Wednesday | 10 am – 4:30 pm |
| Thursday & Friday | 10 am – 6 pm |
| Saturday | By Appointment |
| Sunday | Closed |
If you have a computer question or request, stop by our Ogden store today!