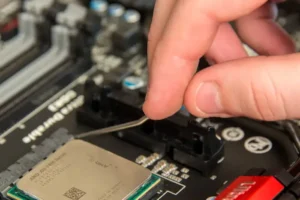 Hardware Installation
At InVision Computers, we are not just a place to buy hardware, we are a complete solution for all your computer needs. Whether you purchase hardware from us or elsewhere, our skilled technicians are here to help you install it into your existing computer. We understand that hardware installation can be complex and confusing, which is why we offer installation services to make the process as seamless as possible for you.
With our expertise and experience, you can have peace of mind knowing that your hardware will be installed correctly and efficiently. We also offer a wide range of hardware options for you to choose from, so you can get exactly what you need for your computer. Whether you need to upgrade your RAM, graphics card, or hard drive, we have you covered.
So why waste time struggling with hardware installation on your own, when you can rely on the professionals at InVision Computers? Come visit one of our locations in Clearfield or Ogden and let us take care of your hardware installation needs.
When you are ready to buy a new computer, it might not be up to the tasks you need it for without significant hardware upgrades. For instance, if you need a more powerful motherboard, internet/network card, video card, or other parts, you will have to buy those parts separately and either install them yourself or go to a computer store.
However, when you purchase a computer from InVision Computers, you can pick the computer you want and let us know about what hardware you need. If you aren't sure about what you might need for your business or your personal computer, you can always sit down with one of our computer experts to discuss your best options.
Computer Customization
At InVision Computers, we can also build your ideal computer from scratch, starting with the case or frame and then moving to the hardware. Whether you are a gamer and need a computer that will support your games or you own a business and need a specific build (specs) of computer for your employees, we can build the desktop or laptop that works for your situation.
We want you to have the computer that you want, and we want it to do what you want it to do. Whether you are very familiar with the ways computers work yourself or whether you are completely in the dark when it comes to computers, we can get you what you need and make sure that you are completely satisfied with the work we've done.
Get New Hardware for Your Computer Now!
At InVision Computers, we've been helping customers with their computer needs since 1996, and we've been keeping up with the latest trends in computer technology. No matter what kind of hardware you want to upgrade your computer with, we can help you.
Our Technicians can install and configure any hardware or software you need to be installed on your computer or network
Call InVision Computers today or visit our office now for hardware installation on your desktop or laptop!