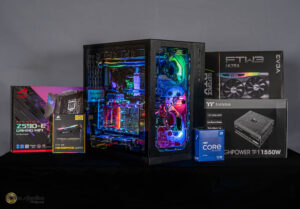 Whether you're looking for a new desktop or laptop, InVision Computers has got you covered. Our comprehensive selection of computer solutions will provide you with the ideal machine to suit your needs, whether that's a fully equipped, ready-to-use computer or a custom-built machine tailored to your specifications. With our expert guidance, you can trust that your new computer will be exactly what you're looking for. So why wait? Come and experience the InVision Computers difference today!
At InVision Computers, we provide comprehensive computer solutions that go beyond just selling you a laptop or desktop. Our experts take the time to understand your needs and customize your computer to include the necessary software, hardware, and upgrades that you require. You don't have to worry about installing or adding anything yourself. We'll make sure your new computer is ready to use right out of the box.
In addition, if you need help setting up your printer, wifi, or network in your home or business, our computer technician can come to you and connect everything together.
Deciding between Repair or Replacement
When your trusty computer starts to show signs of wear and tear, you might be faced with the decision of whether to repair or replace it. While repair can be an option for fixing specific issues, it may not always be the most cost-effective solution.
Our experts at InVision Computers can assess the condition of your current computer and help you weigh the pros and cons of repairing vs replacing it. If you decide that a replacement is the better option, we can assist you in finding the best new computer that fits your needs and budget.
Investing in a new computer can bring many benefits, such as access to the latest technology and hardware, improved speed and performance, and peace of mind knowing that you won't have to deal with constant computer issues.
Visit us at one of our locations in Clearfield or Ogden, and let us help you make an informed decision on whether to repair or replace your computer.